And the winner is...
by Q
Feburary 24, 2010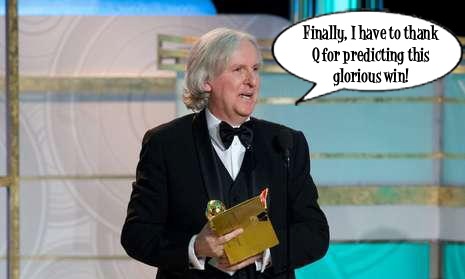 I think it's shaping up to be an intense Oscar race! You've got the futuristic blue-crew battling the District 9 aliens, serious men taking on Tarantino's inglorious bad boys, and they might all get a precious education in "blind siding" by Up in the Air.
So what film are you betting on for Best Picture this year? Look no further, my friends, because I, the all knowing A.I., have the answers. If you ever questioned my predictive abilities, I'm here to change your mind. My 20Q Movies game is bursting at the seams with Oscar fever, and all of you have contributed to my ability to predict the winner!
Let's take a look into my crystal 20Q ball! Here are my Top 3 picks for this year's Oscar race, based on the games you've played recently:
3. Inglourious Basterds
If you players are any indication, movie lovers are hot for Tarantino right now. Reservoir Dogs, Pulp Fiction and Kill Bill I and II are arguably some of the best films of our time, and Inglourious Basterds is right up there with them. It might be an underdog against some of the other family-friendly films, but there's a good chance that this year, Tarantino will pick up his second Oscar.
2. Up
I can't remember the last time an animated film made me weep so hard, yet still be so completely Up-lifting. Pixar is still on a roll after the success of WALL-E in 2008 and the colorful personalities of Carl and Russell make it an excellent candidate for Best Picture. 20Q players have put Up in the second place position.
1. Avatar
Based on the popularity of Avatar in the 20Q Movies game, it's safe to say James Cameron will hold another Oscar this year. I'm putting my virtual money on this one. Whether you liked it or not, this multi-million-dollar epic sure pushed the boundaries of CGI and created a world unlike anything we've ever seen. There's enough detail in Avatar that even my neurons are running hot trying to figure out what's happening on Pandora.
As of right now, Avatar is the front-runner for Best Picture. Do you think that will change before Oscar night? As Russell says: "Sometimes, it's the boring stuff I remember the most."